Mandatory Functions
RWC Tokyo provides services covering the following mandatory RWC functions for WMO RA II Members.
Regional WIGOS metadata management (for work with data providers to facilitate collection, updating and provision of quality control for WIGOS metadata in OSCAR/Surface operation)
Regional WIGOS performance monitoring and incident management (WIGOS Data Quality Monitoring System, or WDQMS) and follow-up with data providers on availability/quality issues
RWC Tokyo
Monitoring of availability, timing and quality of observation data provided by RA II Members using the WDQMS monitoring webtool
Member encouragement for response to incidents and related handling via the Incident Management System for WDQMS (JIRA ECMWF)
Provision of effective NMHS support via close collaboration with relevant WMO Centres run by JMA
RWC Tokyo NMHSs
RA II Members are categorized into Groups A and B for effective WDQMS implementation, with RWC Tokyo being responsible for each group in turn every six months. RWC Beijing (the other RWC in the region) covers the other group.
Group A (17 Members): From 1 January to 30 June, RWC Tokyo manages:
Afghanistan, Bahrain, Bangladesh, Bhutan, India, Iraq, Islamic Republic of Iran, Kuwait, Maldives, Nepal, Oman, Pakistan, Qatar, Saudi Arabia, Sri Lanka, United Arab Emirates, Yemen
Group B (16 Members):From 1 July to 31 December, RWC Tokyo manages:
Cambodia, Democratic People's Republic of Korea, Hong Kong (China), Kazakhstan, Kyrgyzstan, Lao People's Democratic Republic, Macao (China), Mongolia, Myanmar, Republic of Korea, Russian Federation, Tajikistan, Thailand, Turkmenistan, Uzbekistan, Viet Nam
*Among RA II Members, the Japan and China RWCs are not involved in the Groups.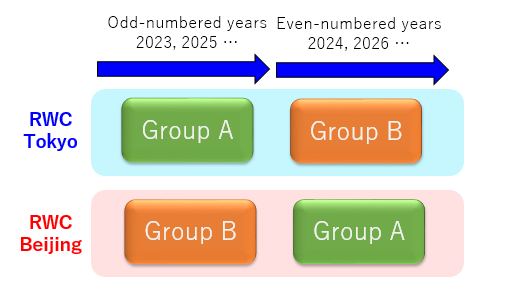 Optional Functions
RWC Tokyo provides services covering the RWC optional functions listed below to NMHSs in RA II. For coordinated service provision, the RWC liaises with related WMO Centres (e.g.,the Regional Instrument Centre Tsukuba (RIC Tsukuba) and the the Tokyo Climate Center (TCC)))
Assistance with coordination of regional/sub-regional and national WIGOS projects
Collaboration with regional and national observation network management
Support for regional capacity development
RA II WIGOS Projects
Leadership in RA II WIGOS Projects is a pillar of operational functions.
Enhancement of Data Availability and Quality Management for NMHSs in Surface, Climate and Upper-air Observations
JMA/WMO Workshop on Quality Management of Surface Observations - RA II WIGOS Project (19-23 March 2018, Tokyo, Japan)
JMA/WMO Training Workshop on Calibration and Maintenance of Meteorological Instruments in RA II (ASIA) (19-22 February 2013, Tokyo, Japan)
JMA/WMO Workshop on Quality Management in Surface, Climate and Upper-air Observations in RA II (Asia) (27-30 July 2010, Tokyo, Japan)
* This project ended in 2020. WDQMS-related activities for capacity development have been carried out since 2021.
Capacity Building for Radar Techniques in Southeast Asia
Technical Meeting on Regional Weather Radar Network for Southeast Asia 2021 (11-12 November 2021, online)
WMO/ASEAN Training Workshop on Weather Radar Quality and Standardization (5-13 February 2018, Bangkok, Thailand)
Bilateral collaboration between the Malaysian Meteorological Department (MMD) and JMA, and between the Indonesian Agency for Meteorology, Climatology and Geophysics (BMKG) and JMA
Collaboration between the Thailand Meteorological Department (TMD) and JMA under the ESCAP/WMO Typhoon Committee
ASEAN Regional Training Workshop on Weather Radar Basis and Routine Maintenance and Real-time Radar Rainfall Estimation and Forecasting (24 February-7 March 2014, Bangkok, Thailand)