Lowering criteria for heavy rain warnings or advisories in the Typhoon Talas affected area
JMA issues a heavy rain warning or advisory for municipalities at the risk of sediment-related disasters and inundation caused by heavy rains. As heavy rain seeping underground increases risk of sediment-related disasters such as debris flow and slope failure, the criteria for issue of the warning and advisory are based not only on the amount of rainfall but also on "soil water index", an indicator of the amount of water in soil to represent the risk of sediment-related disasters.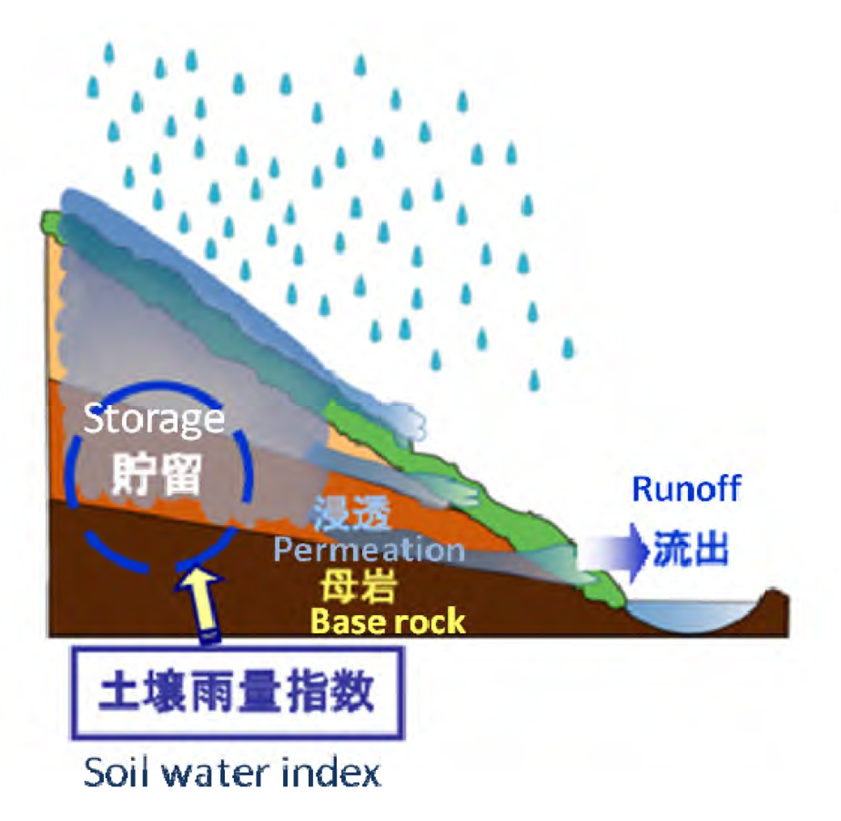 The heavy rainfalls in association with Typhoon Talas caused huge sediment disasters in Nara and Wakayama Prefectures. In these areas, the risk of sediment disaster is higher than usual because the landslides still remain along the rivers or on the slopes in these areas and they could run off even by a little bit of rain. Considering this risk, JMA has been tentatively operating with lowered the criteria of soil water indexes for its heavy rain warning/advisory for some cities, towns and villages in Nara and Wakayama Prefectures (see Table below).
When the risk of a sediment-related another disaster significantly increases, JMA issues Sediment Disaster Alert jointly with the sediment control department of Prefectural Governments and Local Meteorological Observatories. The criteria for Sediment Disaster Alert are also lowered in the same areas.
| Prefecture | Cities, towns and villages | Percentage of provisional criteria to the norm |
| --- | --- | --- |
| Nara | Totsukawa-mura, Nosegawa-mura, South part of Gojo-shi, Tenkawa-mura, Kawakami-mura, Kurotaki-mura, Higashi-yoshino-mura, Mitsue-mura | 50% |
| Wakayama | Tanabe-shi, Shingu-shi, Nachikatsuura-cho, Kozagawa-cho, Inami-cho, Minabe-cho, Kamitonda-cho, Shirahama-cho, Kitayama-mura | 80% |