Surface Observation
Overview
A total of approximately 60 manned weather stations and 90 unmanned Special Automated Weather Stations are run by the Japan Meteorological Agency (JMA), including Local Meteorological Offices. Located nationwide, these stations routinely observe various meteorological elements such as surface pressure, temperature, humidity, wind direction/speed, precipitation, snow depth, snowfall, sunshine duration, solar radiation, visibility, cloud and weather phenomena.
&nbspMeteorological data are essentially recorded via automatic surface observation, while cloud conditions, visibility and weather phenomena are observed by staff at Regional Headquarters and Local Meteorological Offices in Niigata, Nagoya, Hiroshima, Takamatsu and Kagoshima.
The observation data recorded are used for the issuance of weather forecasts, weather warnings/advisories and related information, and are also utilized in a range of operational and research fields including those related to climate change and socio-economic activities.
Surface Observation Sites
Surface observation network (As of 12 December 2017)
Surface Weather Observing System
Surface weather observing system equipment at Local Meteorological Offices and Special Automated Weather Stations is used to observe weather-related elements such as surface pressure, temperature, humidity, wind direction/speed, precipitation, snow depth and sunshine duration. The system's elements are mostly installed in observation fields (Note 1) or on observatory rooftops, while their barometers and signal converters are located in indoor observation spaces.
Surface weather observing system equipment includes electrical thermometers, electrical hygrometers, tipping bucket rain gauges, electronic barometers, propeller anemometers, electrical global pyranometers, rotating mirror sunshine recorders (measuring how long the ground surface is subjected to direct solar radiation), laser-based snow depth gauges and visibility meters.
Note 1) Observation fields: Spaces where observing instruments are placed to secure a stable environment free from the effects of surrounding artificial objects. Observation fields are usually covered with grass to mitigate heat influence from the ground.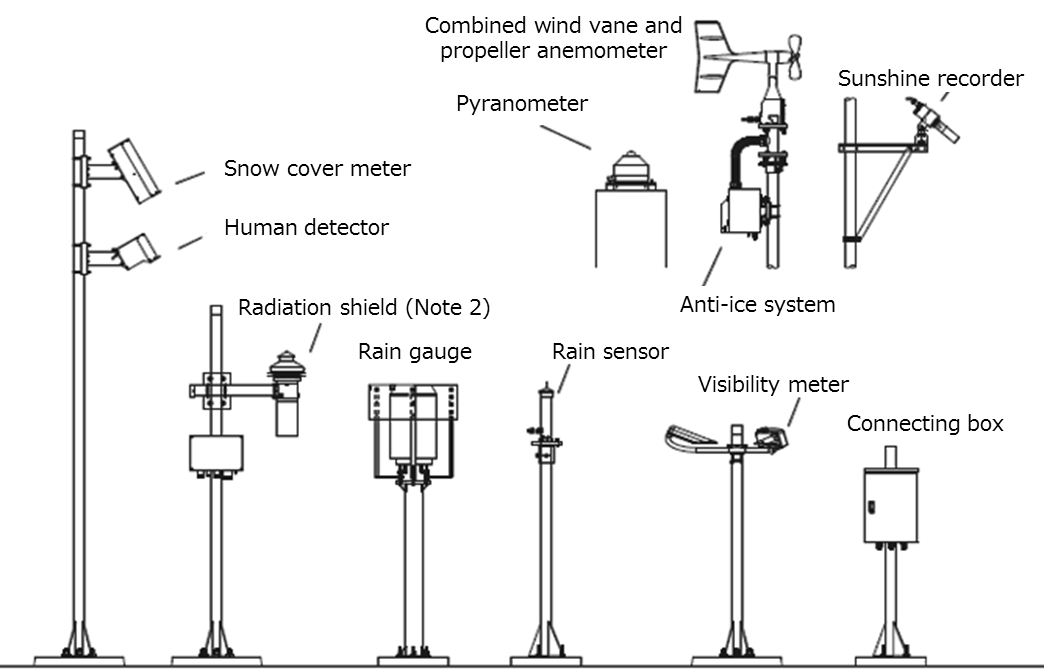 Surface weather observing system
Note 2) Double circular cylinders: Equipment in which thermometers and hygrometers are embedded. Insulating material is installed between cylinders, and artificial ventilation is provided to eliminate the influence of solar radiation. An extra shield plate is also attached to the bottom of the cylinders to prevent any effect from solar radiation absorbed by the ground.

Observation equipment
Surface Weather Observation Elements
Observation element
Observation equipment
Number of stations**
Observation spot
Temperature

Temperature
Daily maximum/minimum temperature*

931
Observation
field
Rain

Precipitation amount
Daily maximum 1-hour and 10-min precipitation amounts*

Tipping bucket rain gauge

1304
Snow
323
Wind

Wind direction/speed
Daily maximum gust speed and direction*
Daily maximum wind speed and direction*

Combined wind vane and propeller anemometer

931
Wind tower or rooftop
Sunshine

Sunshine duration (length of time in direct solar radiation)

Rotating mirror sunshine recorder
Solar-powered sunshine recorder

843
Pressure and
moisture

Surface pressure
Type and amount of pressure change
Daily minimum sea level pressure*

156
Observation
room

Water vapor pressure
Dew point
Relative humidity
Daily minimum relative humidity*

Electrical hygrometer
Electrical thermometer
Portable aspiration psychrometer

Observation
Field
Presence and intensity of precipitation

Precipitation intensity
Weather phenomenon (presence/absence of precipitation event)

Rain sensor
Tipping bucket rain gauge

Solar radiation

Global solar radiation amount

Visibility, weather and atmospheric phenomena

Visibility
Present weather
Weather phenomenon
Cloud amount
Cloud type
Direction of cloud/cloud mass movement

Visual or auditory observation

11
Visibility and weather

Visibility
Present weather
Weather phenomenon

Visibility meter
Rain sensor
Electrical thermometer
Electrical hygrometer

142
*Observation dates and times are recorded.
**As of 1 January 2016
Automatic identification of meteorological phenomena
Meteorological phenomena are identified automatically from satellite, surface observation equipment such as visibility meters and electrical thermometers.
Sunny vs. cloudy conditions

High-resolution Cloud Analysis Information (HCAI) and data on the potential for sunshine in the hour before from automatic weather observation are referenced to determine sunny and cloudy conditions.

In the absence of sufficient HCAI, only data on the potential for sunshine in the hour before are referenced. Only HCAI is referenced at nighttime, as there are no sunshine observations.

In the absence of sufficient HCAI and sunshine duration data due to maintenance or automatic satellite sun avoidance, it may not be possible to ascertain current weather conditions.

Rain vs. sleet vs. snow

Temperature and humidity data are referenced in automatic observation using rain sensors to determine whether precipitation is rain, sleet or snow. If precipitation is not observed or temperature/humidity data are insufficient, the distinction cannot be made.
Observation stations where distinction between sunny and cloudy and distinction among rain, sleet and snow are made automatically
Local Meteorological Offices etc.(47)
Hokkaido region(7)
Hakodate, Asahikawa, Muroran, Kushiro, Obihiro, Abashiri, Wakkanai
Tohoku region(5)
Aomori, Morioka, Akita, Yamagata, Fukushima
Kanto Koshin region(8)
Mito, Utsunomiya, Maebashi, Kumagai, Saiko, Yokohama, Kofu, Nagano
Tokai region(3)
Gifu, Shizuoka, Tsu
Hokuriku region(3)
Toyama, Kanazawa, Fukui
Kinki region(5)
Hikone, Kyoto, Kobe, Nara, Wakayama
Chugoku region(3)
Tottori, Matsue, Okayama
Shikoku region(5)
Tokushima, Matsuyama, Kochi
Northern Kyushu region(5)
Shimonoseki, Saga, Nagasaki, Kumamoto, Oita
Southern Kyushu region(2)
Miyazaki, Naze
Okinawa region(3)
Miyakojima, Ishig3kijima, Minamidaitojima
Special Automatedd Weather Staions Offices (93)
Hokkaido region(14)
Esashi Kitami, Haboro, Rumoi, Iwamizawa, Otaru, Kutchan, Suttsu, Omu, Monbetsu, Nemuro, Hiroo, Tomakomai, Urakawa, Esashi
Tohoku region(11)
Mutsu, Fukaura, Hachinohe, Miyako, Ofunato, Ishinomaki, Sakata, Shinjo, Wakamatsu, Shirakawa, Onahama
Kanto Koshin region(13)
Nikko, Chichibu, Oshima, Miyakejima, Hachijojima, Chiba, Katsuura, Tateyama, Karuizawa, Matsumoto, Suwa, Iida, Lake Kawaguchi
Tokai region(10)
Mishima, Ajiro, Hamamatsu, Omaezaki, Irozaki, Irago, Takayama, Yokkaichi, Ueno, Owase
Hokuriku region(5)
Aikawa, Takada, Fushiki, Wajima, Tsuruga
Kinki region(5)
Maizuru, Toyooka, Himeji, Sumoto, Shionomisaki
Chugoku region(7)
Tsuyama, Fukuyama, Kure, Saigo, Hamada, Sakai, Yonago
Shikoku region(5)
Tadotsu, Uwajima, Cape Muroto, Sukumo, Shimizu
Northern Kyushu region(11)
Hagi, Yamaguchi, Iizuka, Hita, Izuhara, Hirado, Sasebo, Mt. Unzen, Fukue, Hitoyoshi, Ushibuka
Southern Kyushu region(8)
Nobeoka, Miyakonojo, Aburatsu, Akune, Makurazaki, Tanegashima, Yakushima, Okinoerabu
Okinawa region(4)
Nago, Kumejima, Yonagunijima, Nishiomotejima
Aerological Observatory etc. (2)
Tateno, Chichijima
Lightning

Lightning is automatically identified at observation stations using LIDEN (the LIghting DEtecthion Network system) and data on convective cells from meteorological weather radar within a radius of 40 km from automatic weather observation stations. If LIDEN or meteorological radar data are insufficient, lightning is not identified.
Observation stations where distinction of thunder are made automatically
Local Meteorological Offices etc.(47)
Hokkaido region(7)
Hakodate, Asahikawa, Muroran, Kushiro, Obihiro, Abashiri, Wakkanai
Tohoku region(5)
Aomori, Morioka, Akita, Yamagata, Fukushima
Kanto Koshin region(8)
Mito, Utsunomiya, Maebashi, Kumagai, Saiko, Yokohama, Kofu, Nagano
Tokai region(3)
Gifu, Shizuoka, Tsu
Hokuriku region(3)
Toyama, Kanazawa, Fukui
Kinki region(5)
Hikone, Kyoto, Kobe, Nara, Wakayama
Chugoku region(3)
Tottori, Matsue, Okayama
Shikoku region(5)
Tokushima, Matsuyama, Kochi
Northern Kyushu region(5)
Shimonoseki, Saga, Nagasaki, Kumamoto, Oita
Southern Kyushu region(2)
Miyazaki, Naze
Okinawa region(3)
Miyakojima, Ishig3kijima, Minamidaitojima