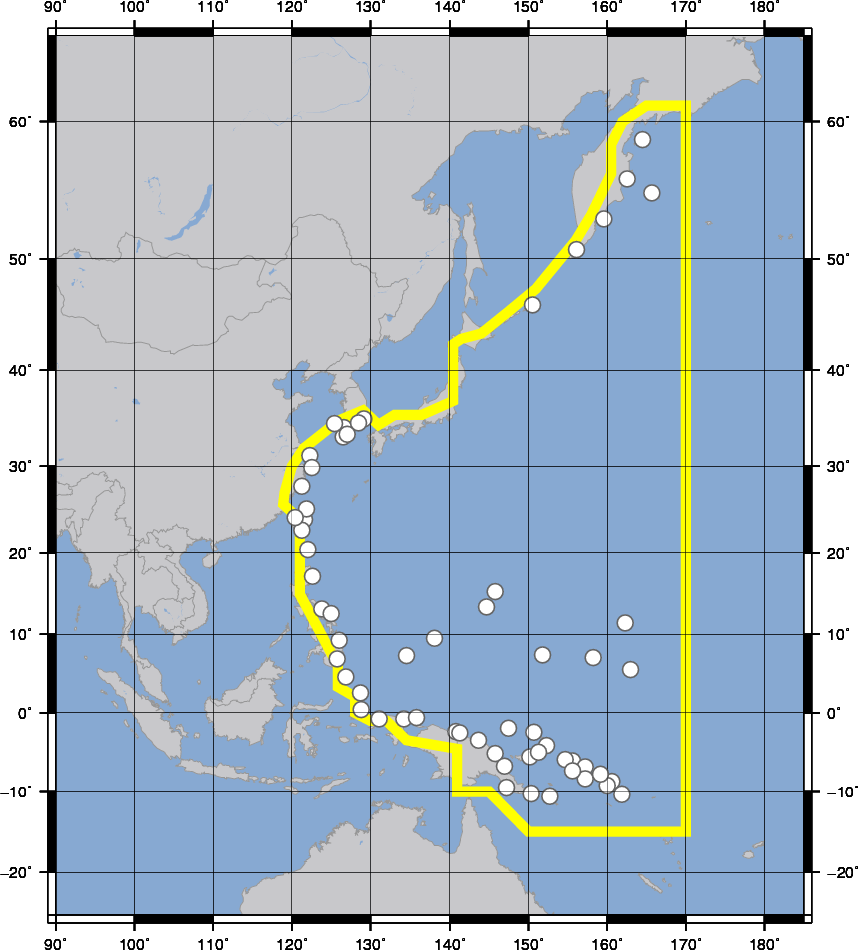 | | |
| --- | --- |
| circle: | Locations for which tsunami arrival times and heights are forecasted. |
| yellow area: | NWPTAC's Area of Service |
Since 2005, JMA has monitored earthquakes and tsunamis in and around the Northwest Pacific region in its Northwest Pacific Tsunami Advisory Center (NWPTAC) role. When an earthquake with a magnitude of 6.5 or greater occurs in and around the region, NWPTAC forecasts possible tsunamis in its Area of Service (AoS) and provides Northwest Pacific Tsunami Advisory (NWPTA) to potentially affected countries. NWPTA reports the origin time, hypocenter and magnitude of the earthquake as well as estimated tsunami arrival times and heights for individual coastal Forecast Points (FPs). Actual tsunami arrival times and heights are also included in NWPTA as available. This information supports recipient country decisions on the issuance of local domestic tsunami warnings and evacuation recommendations.
NWPTAC's provision of interim tsunami advisories for the South China Sea region begun in 2006. It was terminated in November 2019 when South China Sea Tsunami Advisory Center (SCSTAC) of China entered full operation. NWPTAC now supports the tsunami disaster mitigation systems of Pacific countries in collaboration with the Pacific Tsunami Warning Center (PTWC) of the US, which covers the Pacific region, and SCSTAC, which covers the South China Sea region.