Surface weather observing system equipment at Local Meteorological Offices and Special Automated Weather Stations is used to observe weather-related elements such as surface pressure, temperature, humidity, wind direction/speed, precipitation, snow depth and sunshine duration. The system's elements are mostly installed in observation fields (Note 1) or on observatory rooftops, while their barometers and signal converters are located in indoor observation spaces.
Surface weather observing system equipment includes electrical thermometers, electrical hygrometers, tipping bucket rain gauges, electronic barometers, propeller anemometers, electrical global pyranometers, rotating mirror sunshine recorders (measuring how long the ground surface is subjected to direct solar radiation), laser-based snow depth gauges and visibility meters.
Note 1) Observation fields: Spaces where observing instruments are placed to secure a stable environment free from the effects of surrounding artificial objects. Observation fields are usually covered with grass to mitigate heat influence from the ground.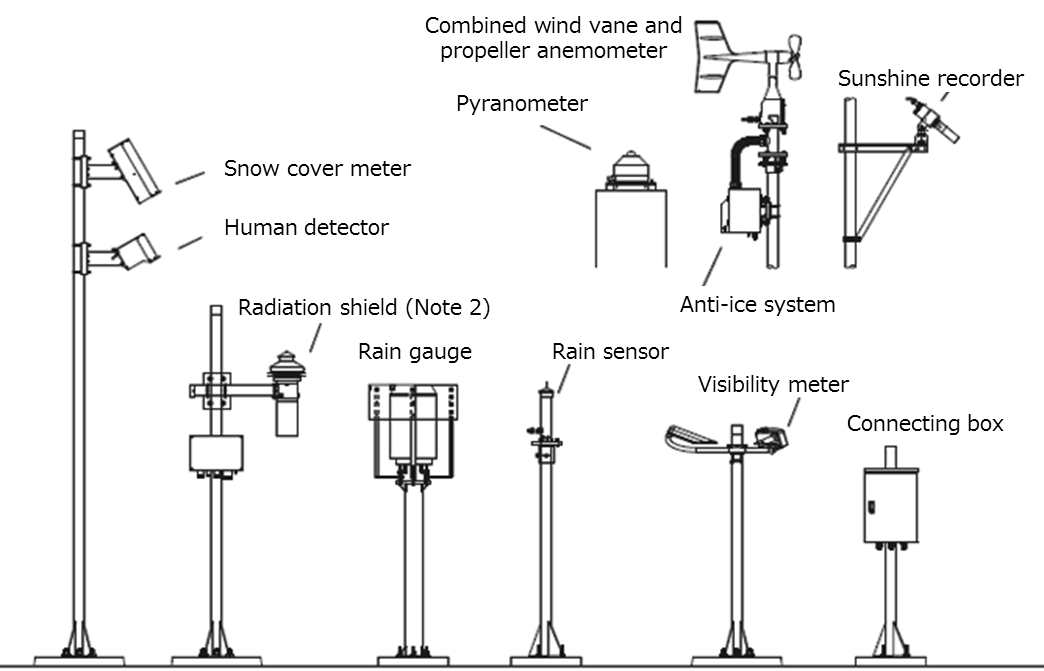 Surface weather observing system
Note 2) Double circular cylinders: Equipment in which thermometers and hygrometers are embedded. Insulating material is installed between cylinders, and artificial ventilation is provided to eliminate the influence of solar radiation. An extra shield plate is also attached to the bottom of the cylinders to prevent any effect from solar radiation absorbed by the ground.
Observation equipment
Surface Weather Observation Elements
Observation element
Observation equipment
Number of stations**
Observation spot
Observation site
Temperature

Temperature
Daily maximum/minimum temperature*

931
Observation
field
Manned
stations
and all
automated weather stations
Rain

Precipitation amount
Daily maximum 1-hour and 10-min precipitation amounts*

Tipping bucket rain gauge

1304
Snow
323
Wind

Wind direction/speed
Daily maximum gust speed and direction*
Daily maximum wind speed and direction*

Combined wind vane and propeller anemometer

931
Wind tower or rooftop
Sunshine

Sunshine duration (length of time in direct solar radiation)

Rotating mirror sunshine recorder
Solar-powered sunshine recorder

843
Pressure and
moisture

Surface pressure
Type and amount of pressure change
Daily minimum sea level pressure*

156
Observation
room
Manned
stations
and special automated weather stations
(unmanned)
only

Water vapor pressure
Dew point
Relative humidity
Daily minimum relative humidity*

Electrical hygrometer
Electrical thermometer
Portable aspiration psychrometer

Observation
Field
Presence and intensity of precipitation

Precipitation intensity
Weather phenomenon (presence/absence of precipitation event)

Rain sensor
Tipping bucket rain gauge

Solar radiation

Global solar radiation amount

Visibility, weather and atmospheric phenomena

Visibility
Present weather
Weather phenomenon
Cloud amount
Cloud type
Direction of cloud/cloud mass movement

Visual or auditory observation

61
Manned stations
only
Visibility and weather

Visibility
Present weather
Weather phenomenon

Visibility meter
Rain sensor
Electrical thermometer
Electrical hygrometer

95
Special
automated weather stations only
*Observation dates and times are recorded.
**As of 1 January 2016