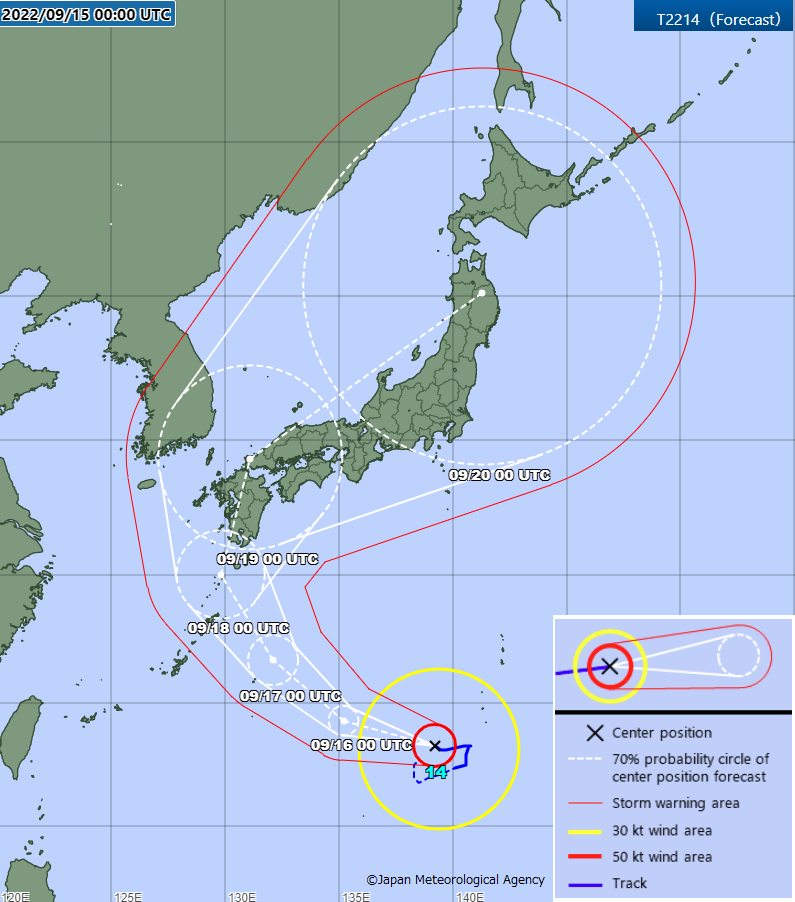 Five-day track and intensity forecast
Tropical cyclones (TCs) cause serious damage to various countries every year, and accurately predicting their locations and intensities is a vital challenge for JMA. The Agency categorizes TCs by maximum wind speed and defines their scale based on 30-kt wind radii as shown below.
JMA monitors TC activity over the western North Pacific and the South China Sea, issuing TC advisories with information from analysis and forecasting of location, intensity and movement up to five days ahead. Analysis and forecasts with lead times of up to 24 hours are updated every 3 hours, and forecasts thereafter are updated every 6 hours. When a TC expected to have a significant impact makes landfall or moves within the vicinity of Japan, analysis information is issued hourly and more detailed forecasts with 3-hourly information covering the period up to 24 hours ahead are issued to advise the public of possible impending disaster conditions. Advisories for developing tropical depressions (TDs), including information from analysis and forecasts up to 24 hours ahead, are also issued when TDs are expected to reach tropical storm intensity or higher in the next 24 hours. To assist local governments in their disaster prevention activities, information on the three-hourly probability of winds measuring 50 knots or greater is issued when the likelihood is expected to exceed 0.5 percent within five days from each of 375 subdivisions all over the country.
JMA extended the lead time of TC intensity forecasts to five days in 2019 due in large part to the upgraded capability of the new supercomputer system and the introduction of a statistical prediction scheme for TC intensity forecasts.