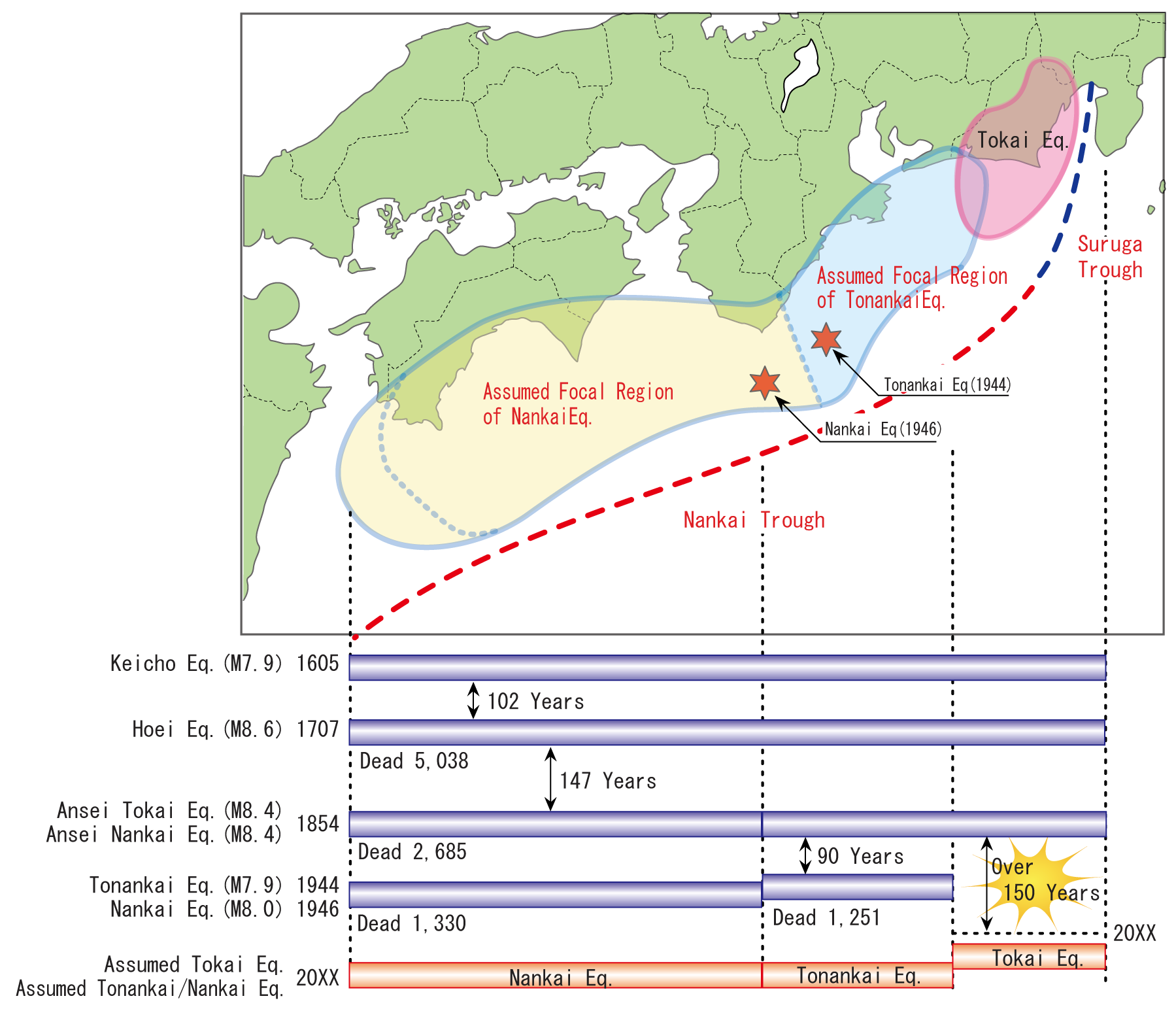 Earthquakes in the Tokai and Nankai areas from 1600
The Tokai Earthquake (predicted to be as large as magnitude 8) is expected to occur in the near future along the trench near Suruga Bay, as huge earthquakes have historically struck every 100 - 150 years along the Suruga Trough and the Nankai Trough. Generally, earthquake prediction remains at the research stage except for that regarding the Tokai Earthquake. The mechanism of this earthquake is quite well understood, and observation of a pre-slip phenomenon is expected just before the earthquake itself. JMA has observation systems in place to detect this pre-slip.
JMA issues information on the Tokai Earthquake, including its prediction, according to the Large-Scale Earthquake Countermeasures Act. If any anomalies are detected in observational data, JMA issues Information on the Tokai Earthquake to enable preparatory action for disaster prevention by prefectural government headquarters. This information is categorized into three types according to the level of warning.
If any anomalous phenomena are suspected to be precursors to the Tokai Earthquake, JMA will convene the Earthquake Assessment Committee for Areas under Intensified Measures against Earthquake Disaster (consisting of leading seismologists), and will examine whether or not the anomaly is indeed a precursor. If the Committee concludes that the Tokai Earthquake is imminent, the Director-General of JMA will report this conclusion to the Prime Minister, who will then hold a Cabinet meeting and issue a warning declaration.