HimawariRequest
Contents
Relative documents of HimawariRequest
Outline of HimawariRequest
JMA has launched its new international HimawariRequest service, which allows National Meteorological and Hydrological Services (NMHSs) to request Target Area observation conducted by Himawari-8/9 every 2.5 minutes.
JMA began operation of Himawari-8 on 7 July 2015 as a replacement for MTSAT-2 (also known as Himawari-7). Himawari-9 started backup operation on 10 March 2017, taking over the main operational role on 13 December 2022 with Himawari-8 as back-up. Both satellites are located in orbit at around 140.7 degrees east, and will observe the East Asia and Western Pacific regions for a period of 15 years.
The Advanced Himawari Imager (AHI) on board Himawari-8/9 is capable of frequent and flexible observation, providing Full-Disk images of the earth every 10 minutes and regional images with shorter intervals. Full-Disk and other regional observations have spatial resolutions of 0.5 to 2 km and spectral coverage incorporating 16 bands.
In regional monitoring, Target Area observation provides imagery covering a 1,000 x 1,000 km area every 2.5 minutes with flexibility for location changes to support JMA's national and international services. The observation is normally focused on an area of active volcanoes in the domain of the Tokyo Volcanic Ash Advisory Center (VAAC), and is adapted to encompass typhoons within the responsibility area of the Regional Specialized Meteorological Center (RSMC) Tokyo Typhoon Center.
The HimawariRequest service enables registered NMHS users to request particular Target Area observations in order to leverage this flexibility on an international scale. The service stems from a WMO RA II (Asia) regional project to develop support for NMHSs in satellite data, products and training in collaboration with WMO RA V (South-West Pacific) Members.
JMA expects the HimawariRequest service to support disaster risk reduction activities in the region based on the monitoring of extreme events such as tropical cyclones and volcanic eruptions.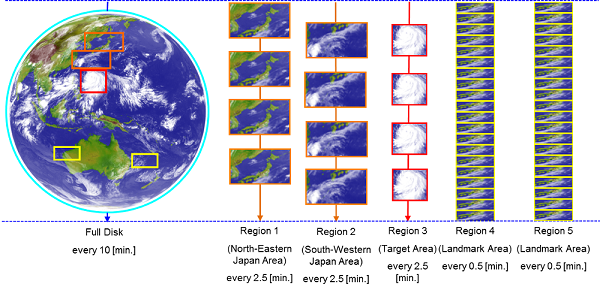 Observation records
As of 1 November 2023, a total of 187 Target Area observation requests had been received from eight countries* for tropical cyclones, bushfires, volcanic eruptions, heavy rain, storms and other phenomena.
*Australia, New Zealand, the Philippines, Singapore, Indonesia, Fiji, the USA and India