JMA's RSMC Tokyo - Typhoon Center provides assistance to members of the ESCAP/WMO Typhoon Committee in typhoon analysis and forecasting services. One of the Center's activities involves holding on-the-job training on typhoon operations for forecasters in the region to improve analysis and forecasting skills through the exchange of views and the sharing of experience in the field.
This year, two forecasters - Mr. Ngo Hai Duong (from Viet Nam) and Ms. Connie Rose S. Dadivas (from the Philippines) - visited JMA's Headquarters from 18 to 27 July, 2012, to participate in the 12th Typhoon Committee Attachment Training. The information covered included the following areas:
The Satellite analysis and viewer program (SATAID)
Tropical cyclone analysis (Dvorak technique)
Tropical cyclone forecasting
Storm surges
Quantitative precipitation estimation (QPE) and quantitative precipitation forecasting (QPF)
The Severe Weather Forecasting Demonstration Project (SWFDP)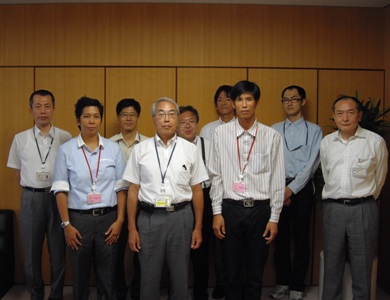 During the training, two tropical storm landfalls (Severe Tropical Storm Khanun on the Korean Peninsula and Typhoon Vicente on South China) were observed. This allowed the two trainees to gain hands-on experience of TC analysis and forecasting using real-time examples.