The field of aviation is today experiencing increased demand for harmonized en-route weather information transcending FIR boundaries due to rapidly growing air traffic volumes in the Asia-Pacific region. Against such a background, the international Collaborative SIGMET Issuance (CSI) initiative was established in March 2018 by the Japan Meteorological Agency (JMA), the Department of Meteorology and Hydrology of the Lao People's Democratic Republic (LDMH), the Department of Meteorology and Hydrology of the Republic of the Union of Myanmar (MDMH), the Philippine Atmospheric, Geophysical and Astronomical Services Administration (PAGASA), the Thai Meteorological Department (TMD) and the Viet Nam Air Traffic Management Corporation (VATM).
On 10 October 2019, JMA Director-General Yasuo Sekita hosted LDMH Director-General Khanmany Khoun Phonh, PAGASA Deputy Director-General Dr. Landrico Dalida Jr. and TMD Director-General Dr. Phuwieng Prakhammintara for an ad-hoc meeting at JMA headquarters in Tokyo on the sidelines of the High-level Dialogues on Tropical Cyclones.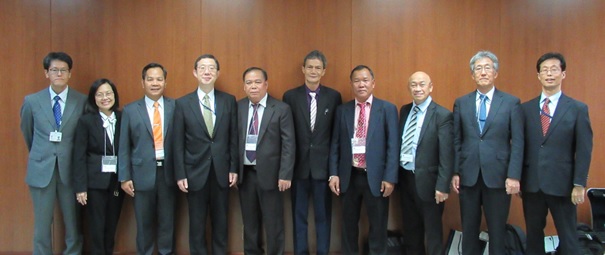 Mr. Sekita opened by highlighting the positive nature of the CSI scheme's transition to its operational phase in April 2018 and plans for CSI members to engage in further collaborative efforts, and expressed expectations for CSI members to assume a joint core leadership role for the future expansion of SIGMET coordination in the Asia-Pacific region.
The attendees expressed appreciation for the close cooperation and technical assistance provided by JMA, and expressed views that CSI scheme members would need to make proactive and collective efforts to expand the target phenomena of SIGMET coordination and strengthen long-term collaboration to facilitate related harmonization with adjacent States.
The event represented a favorable opportunity for the attendees to reaffirm the need for sustainable collaboration among CSI members toward further development of the scheme and future expansion of SIGMET coordination.