Forecast of cherry blossom blooming dates in 2008 (updated on 19 March)

The figure below indicates the dates when cherry blossoms are expected to bloom in Japan in 2008.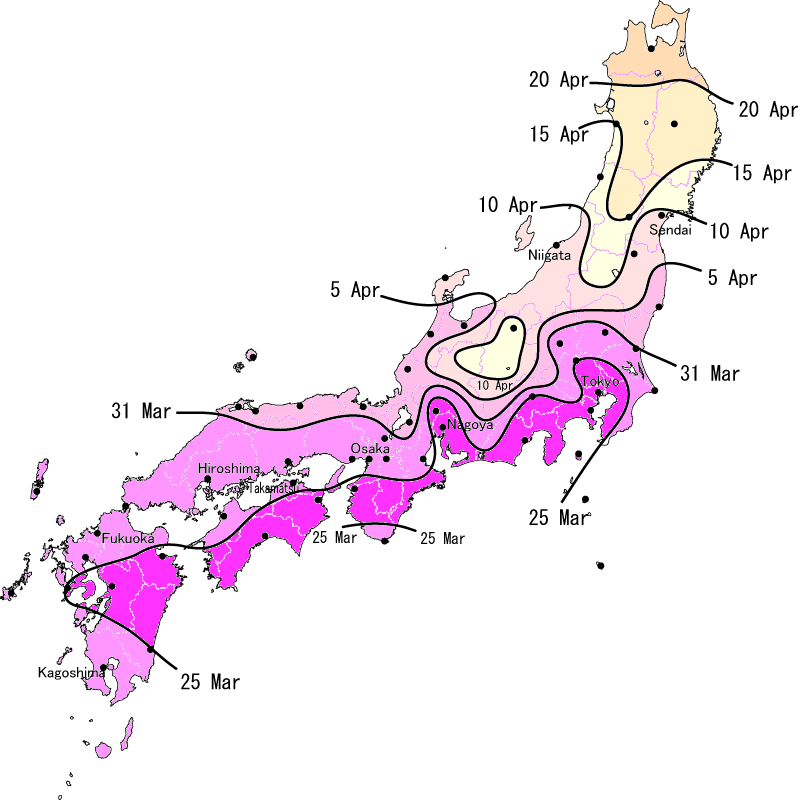 Note: black dots represent forecast points.

The forecast will be updated every week until the end of April. Predictions for the Hokkaido region will be available in early April.




Brief introduction to the prediction of cherry blossom blooming dates

JMA's prediction of cherry blossom blooming dates is conducted by applying the relationships between temperatures and blooming dates in previous years to the temperatures observed since last fall and those predicted in weekly, monthly and three-monthly forecasts.

The predicted blooming dates are for specific sample cherry blossom trees designated by JMA, and the actual blooming dates of other trees may differ from the predictions. Please also note that the prediction has a margin of error of two to three days each way.

The predicted blooming date is the first day of the season on which five or six blossoms of a sample tree will bloom, and becomes two to three days later for each 100-meter increase in altitude. The date of full blooming is the first day on which more than 80% of the blossoms of a sample tree have bloomed.

The period between the cherry blossom blooming date and the date of full blooming will be about a week for each predicted area.


- Back to the top page of News release