Home
>
News Releases
> Prof. Matsuno was presented with the 55th IMO Prize in the ceremony during the WMO 16th Congress
Prof. Matsuno was presented with the 55th IMO Prize in the ceremony during the WMO 16th Congress
Prof. Taroh Matsuno, Principal Scientist of Japan Agency for Marine-Earth Science and Technology (JAMSTEC), was presented with the 55th IMO Prize. The IMO Prize is the most prestigious award of the World Meteorological Organization (WMO), and the ceremony was held on 2 June 2011 during the WMO 16th Congress (16 May to 3 June 2011).

He has established a lot of outstanding scientific achievements in atmospheric dynamics. His doctoral thesis showed the dynamics of equatorial waves in the atmosphere and ocean, which play important roles in various phenomena, such as El Niño and Southern Oscillation (ENSO) and Quasi-biennial oscillation (QBO).

Recently, he has been leading climate modeling and global change research projects, to contribute to the fourth and the fifth Assessment Reports of the Intergovernmental Panel for Climate Change (IPCC).

He has received numerous awards, including the Carl-Gustaf Rossby Medal of the American Meteorological Society, the Societal Award and the Fujiwara Award from the Meteorological Society of Japan and the Japan Academy Prize. The 55th IMO Prize is a tremendous validation of his scientific achievements and international contribution.

This award and information about the IMO Prize are found on the WMO website.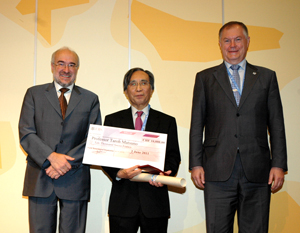 From left to right:
WMO Secretary-General, M. Jarraud, Prof. Matsuno
and former WMO President, A. Bedritskiy


(Photograph in this page is provided by WMO by courtesy.)