The 2011 Great East Japan Earthquake ~first report~
Note: This is a rush version, which may include translation errors.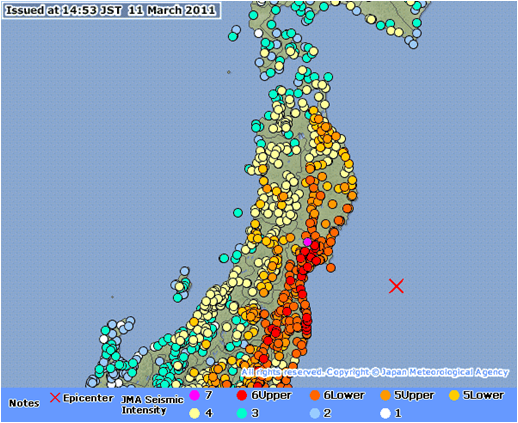 A massive earthquake of magnitude of 9.0 occurred Friday 11 March, off the Pacific coast of the northeastern part of the Japanese main land (Tohoku Region), causing devastating damages. The Japan Meteorological Agency named this earthquake the 2011 Great East Japan Earthquake.








Earthquake Summary
Date and Time:
11 March 2011 14:46 JST (05:46 UTC)
Magnitude:
9.0 (interim value; the largest earthquake recorded in Japan)
Hypocenter:
130km off the Pacific coast of Tohoku region, from Iwate to Ibaraki Prefectures, 24km depth
Mechanism:
Reverse fault type with WNW-ESE compressional axis (by CMT analysis)
JMA Seismic Intensity:

| | |
| --- | --- |
| 7 (Max) | Kurihara City of Miyagi Prefecture |
| 6+ | 28 cities and towns (including Wakuya Town, Tome City, Osaki City, Natori City) in Miyagi, Fukushima, Ibaraki, and Tochigi Prefectures |
| 6- or weaker | Observed nationwide from Hokkaido to Kyushu |

Tsunami Warnings and Advisories:
Please refer to real-time information at http://www.jma.go.jp/en/tsunami/
Observed Tsunami
High tsunamis were observed on the Pacific coast from Hokkaido to Okinawa. In addition, tsunami were also observed on the coasts of the Sea of Japan, Sea of Okhotsk, and East China Sea.


Aftershocks
Number of strong aftershocks have occurred in the area off the coast of Iwate, Miyagi, and Ibaraki Prefectures, which is considered as the source region of the main shock. The area is so large that, when compared to past cases, the activity of aftershocks is very high.
JMA Seismic Intensity of aftershocks will often be 5- or heavier, and it may sometimes reach 6- or 6+.
Tsunami may occur after a strong aftershock. Be cautious when a tsunami warning or advisory is issued.
Estimating from the occurrence of aftershock so far, the possibility of aftershocks with magnitude of 7 or higher is 70% until 10 a.m., 16 March, followed by 50% until 10 a.m., 19 March.
Notes on Disaster Prevention
Be alerted on the coast with tsunami advisories.
Stay away from coasts where tsunami warnings have just turned to be advisories.
Many places could be dangerous after tsunami and earthquakes. Be cautious and ensure adequate safety on your way back from the evacuation center, by following instructions and directions of the local emergency officers.
In the area where strong shaking was observed, keep vigilant to strong aftershocks which may cause landslides and house collapses.
Useful links